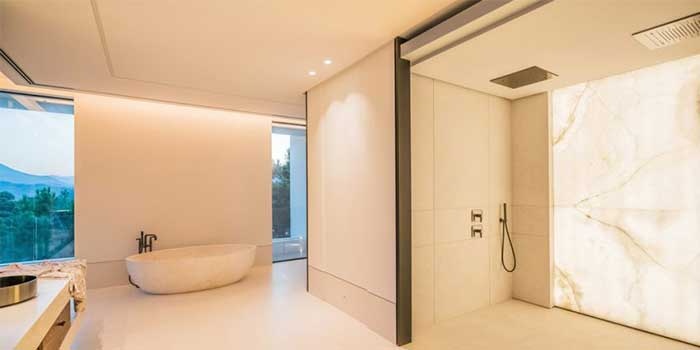 Beige Marble Bathrooms In Contemporary Style
Contemporary beige marble bathrooms combine modernity with a natural color palette. The days of beige marble bathrooms with colorful moldings and ornate profiles are gone. Today prevail refined lines with that warm touch that only beige marble can offer.A trendy option for interior designers looking for luminosity without resorting to white is our Premium Beige marble.
PREMIUM BEIGE MARBLE: LIGHT, QUALITY, AND COMFORT
Halfway between a too-light beige and off-white, this natural stone allows you to create spaces with pure shapes, radiant and welcoming.Above, we see Villa Cullinan's bathroom, a project in which we participated as specialists in natural stone. The room is clad in Premium Beige marble on walls and floors and integrates a featured wall of backlit onyx. The sculptural bathtub is solid and, like the countertop, is also crafted in a luminous Premium Beige.Here is another snapshot of the same bathroom where we can appreciate the subtle difference between a pure white and a subdued beige such as the Premium Beige marble. On the left shines the backlit onyx wall. The matte aesthetic is due to the honed finish, which results in a smooth, soft surface. Also, as it is a finish that highly reduces porosity, it generates a protective effect against external agents.Here you can observe another beige marble bathroom we have worked on. It belongs to the Villa VI project in Marbella. A large part of this residence has Premium Beige floor and wall coverings. In this case, the finish is polished, bringing great shine to the surface and reducing porosity to a minimum, offering extra protection against external agents.